So now that I've had some time to think about it and rewatch the trailer a bunch of times, I wanted to point out a bunch of things I noticed (many of which I haven't seen brought up elsewhere) and what I've theorized based on some of them, with the overarching conclusion being that Disney's already showing off or at least alluding to a bunch of subtle but substantial story changes.
Hyena Territory is no longer an Elephant Graveyard
This was actually pointed out by gothprincesskiara I think so I'm not taking credit for this observation, but the area the hyenas seem to reside looks more like the Outlands from
The Lion King II
and
The Lion Guard
, especially the fact that they seem to live in large rock formations/giant termite mounds. (Which spotted hyenas are actually known to do.) Combine this with the footage description from last week where the dialogue between Simba and Mufasa implies that the hyenas' territory is within the Pride Lands rather than "beyond our borders" (but still off-limits) and it makes me think that the hyenas aren't as much an exiled undercaste but rather just a rival autonomous faction within the Pride Lands with a contentious relationship with their lion overlords, much like they were in original drafts of the 1994 film. This will be important in a later point of speculation, so keep that in mind.
Scar's Scars
So as I mentioned in the main thread, I really like Scar's design the more I look at it, chiefly in how rugged he looks. I've seen a lot of people saying he looks scrawny, malnourished, and mangy, but as someone who's at least watched a fair share of National Geographic/Animal Planet, Scar looks pretty typical for a healthy wild lion. We often picture nature -- especially its most charismatic fauna like lions -- in a pristine condition, ignoring the fact that animals that live that long usually don't get there without incurring a fair share of weathering and battle scars. It's an artistic trope that you often see in wildlife and paleoart, to overlook imperfections and just depict the best possible specimen. A typical mature male lion in the wild looks more like Scar than Mufasa in this respect, while the latter with his beautifully flowing full mane and musclebound scarless body is our idealized version of a lion, one you're more likely to see in a high maintenance zoo with a healthy breeding program. Not that there aren't wild lions that look like Mufasa, but Scar's clearly the one who looks like a real battle-hardened scrapper.
Where am I going with this? You'll see shortly.
Hyena Quartet
Of course this one might be a bit of a reach, but hey, we're here to overanalyze. As you can see if you look closely in this scene, there's a fourth hyena in the background of this shot. Now it might be the case that Shenzi -- as we'll see later, clearly the respected matriarch of this clan -- just brought a good number of additional hyenas aside from just Kamari (Banzai; presumably the one with the ripped ear) and Azizi (Ed; presumably the smallish one) in order to get the wildebeest herd moving and we're only seeing that one extra hyena in this shot just for happenstantial reasons. But it could also mean that there's an additional character to take note of that is for some reason central enough within Shenzi's sphere that she'd bring just them along for Scar's plan. A mature offspring of her's perhaps?
Scene Swapping
This one isn't substantial, but an amusing side observation that didn't hit me until I rewatched the trailer this morning. If you remember the original film, right before Nala attacks Pumbaa, the warthog is off stalking a rhinoceros beetle very similar in design to the one here, and this shot is a near-direct recreation of that image, only swapping Pumbaa out for little Simba: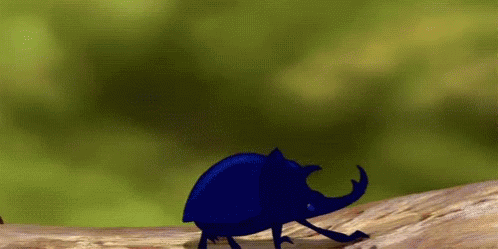 On a slightly more substantial note, this probably means that Pumbaa's introduction to Nala won't play out quite like it did in the original movie.
Al-lions-ces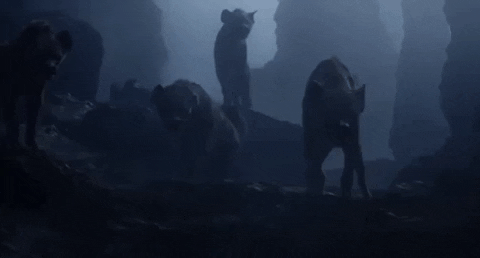 Now this one is important and brings together a bunch of earlier threads I brought up. Think about this: in the original film, Scar was always placed in an elevated position above the hyenas in nearly every scene they shared save his death, symbolic of his control and sense of superiority over them, this bunch of dimwitted outcasts who were all subservient to and intimidated by him for most of the movie. Here the roles are reversed, with them openly snarling at Scar from the rocks above him as he approaches their matriarch (who has the high ground here) -- presumably being portrayed by fierce actress Florence Kasumba in a much less comedic manner than her Whoopi Goldberg incarnation -- as if to ask something of them. This makes me think a couple of things:
1)

In this version of the story, we'll see Scar actively seeking out the help of the hyenas in enacting his plan to overthrow Mufasa, meaning he wasn't friends/allies with them before the events of the film like in the original. Because I'm assuming that this is the "Be Prepared" scene (even if that song isn't actually in the movie), my hypothesis is that Scar's first plan to kill Simba is a more hands-off approach. I.e., he sent his nephew there in the hopes that the hyenas will kill him since they're in conflict with the lions and don't need to be coerced into killing cubs, since it's something hyenas are all too willing to do anyway.


2)

Their snarling at him is indicative of either plain distrust of this lion being in their den -- again, not a surprising response given they presumably don't know him if my hypothesis is correct -- or it's actually because he used to be their enemy. Hear me out on this second one: remember when I mentioned how battle-worn Scar looked earlier in contrast to Mufasa? Perhaps that's because they're including elements of

The Lion Guard

into this story, chiefly the idea of younger siblings to the monarch traditionally being born into guardship positions and territory defense. Under this scenario, Scar is seen as a key enemy by the hyenas and acquired many of his injuries (though not the eye scar) through his years of enforcing at least Mufasa's rule if not his own father's earlier on as well. But once his jealousy overcomes him to the point that he betrays Mufasa, he goes to his former enemies and allies himself with them with promises of greater access to food and territory, thus kicking off the story as we remember it.
So yeah, tl;dr with this one: Scar in this iteration used to fight the hyenas as the leader of the lion guard (of sorts) but then goes on to try and ingratiate himself with them via an enemy-of-my-enemy deal, and he doesn't do this until after his first plan to indirectly kill Simba fails upon the cub's return home that particular evening. At least if my idea bares out.
Slimy to Scolding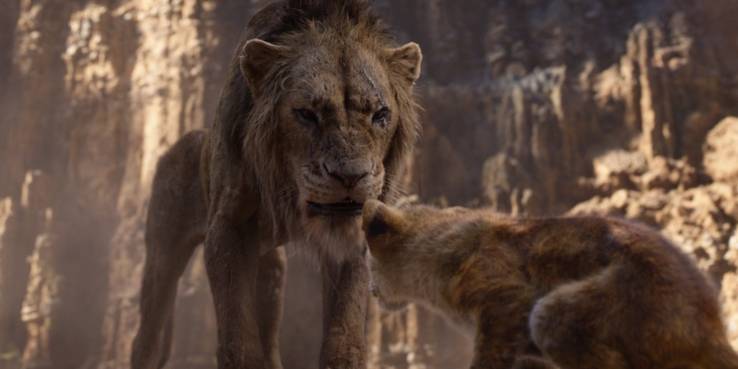 This one took me a little while to think about before I grasped the implications. So here we see Scar telling Simba "Run away and never return" and the first time I heard this version of the line I was wondering why he was sounding so angry and obviously malicious, which of course is a major departure from Jeremy Irons' take on the character and dialogue. However, what I've come to realize is that this is probably a (faux) scolding tone rather than just random aggression or evil for the sake of it. In this version, Scar is going to come off as more angry over his brother's death in front of Simba and really lay the blame on the cub in that "This is why I told you not to do this!" fashion (a tone I'm all too familiar with as an eldest sibling) which'll make Simba in turn feel that much more guilty over his role in events.
"Nala, Nala, Nala"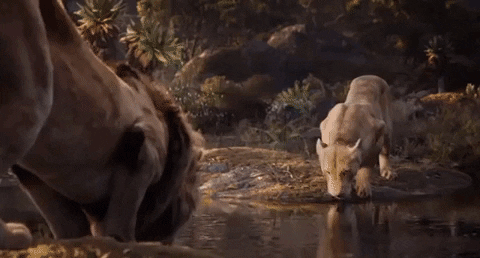 So I bothered to count the number of lionesses in both shots of the pride just to confirm whether the featured individual in the two-shot crowd bit with Scar is Nala or Sarabi. (Someone on Twitter is thinking it's Sarabi; I'm inclined to think they're focusing on Nala only in this trailer while Sarabi is the one sitting in the foreground.) Both contain only six lionesses, so assuming they're all the same six individuals, Nala is present in both, which to me implies that the scene with Scar will be an iteration of "The Madness of King Scar" wherein he claims her as his queen before she is banished/decides to run away and find help. Given that Beyoncé is voicing her, it makes sense that they'd give at least adult Nala a larger role in the story and this would be the scene to add in that case.
----
And there you have it, my unnecessarily deep dive into this trailer for a movie of a story we all already know pretty well to try and wring something new out of it. Breakdown articles and videos are a dime a dozen nowadays, so I figured why not apply my own knowledge of the franchise to hopefully add something new to the conversation instead of just saying "Here's this shot from the old movie, here's that shot from the old movie, look at how much the same they are, automatically a shot-for-shot remake!"